Ernest MOUTOUSSAMY en Inde
Ernest MOUTOUSSAMY dans le journal national de l'Inde
THE HINDU
23 Août 2006
Propos receuillis par Deepa H. Ramakrishnan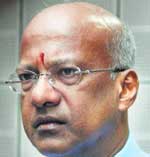 Ernest Moutoussamy
PONDICHERRY : For Ernest Moutoussamy, the Tamil connection remains just in his name. Having grown up on a sugarcane plantation where his father and grandfather worked, the Mayor of Saint-Francois in Guadeloupe knows that his forefathers came from India and that is all.

A five-time member of the French Parliament (National Assembly), Ernest is the first literate in his family. "When Indira Gandhi came to France, I was the only person of Indian origin in the Parliament and she came and met me. It was a great honour for me. I am the only person of Indian origin who has been elected from Guadeloupe. Of the 90,000 voters in his constituency only 15 percent are people of Indian Origin the rest are Africans," said Mr. Moutoussamy.

"When I tried to trace my roots, I found only numbers and names of people in the records and India as place of origin. From the name I guess I am from a Tamil-speaking region here. My daughter's name is Soraya Moutoussamy and my wife's is Monique Moutoussamy. Though we are Catholics, we still have images of Hindu gods at home. We celebrate all the Christian festivals but we don't celebrate Deepavali. I am an Indian but then Guadeloupe is home to me," he said.

Saint-Francois is a seaside commune with a population of 10,000 people. "There are three routes to Saint-Francois, a sea side commune, and each of them has statues of great leaders. One has Mahatma Gandhi's statue, another has Martin Luther King's and the third road has Abbi Gregoire's statue.

"Though we have taken a lot from the other people, the Indian community has given back a lot to them. The dish Colombu (kozhambu) is something that everyone eats." Mr. Moutoussamy was here in Pondicherry recently to attend a seminar organised by the Pondicherry University and Paris-8 University.

This interview would not have been possible but for the help by R. Kichenamourty, former Dean, School of Humanities, Pondicherry University, who translated Mr. Moutoussamy's French to English. The five-time MP speaks Creole at home and French officially. The Tamil words that he knows include the names of dishes that his people have retained over the centuries.

Having done his bachelors degree in History, he went on to become a professor. "My father was so proud when I became a professor. But I don't know if he understood the hard work that I put in to raise to that level. I stood for elections because of three reasons - ideological (he belongs to the Left party), he wanted to show that a person of Indian origin could win and also boost the confidence of people of Indian origin."

During his time as MP he created a sports association for his people, brought about insurance for farmers and also introduced a family allowance for all families irrespective of whether the father was working or not. "It was only in 1946 that education was made compulsory. I will contest the elections the next time and I want to reduce the number of unemployed persons. I also want to develop some infrastructure for culture and tourism," he said. Mr. Moutoussamy has written several books including one on Creole cuisine.